Play Now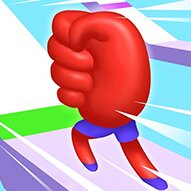 You can be skilled with your hands, but it is no use in Mora Rush! Here, we have everything in 3 options: rock, paper, and scissors. Come join us on this curious run with sliding hand dances and squids used as hands.
Your only mission is to choose rock, paper, or scissors at the right time that is marked by the doormat before the hand-shaped doors. If it all feels too fast, you can just act according to the colors, as red means rock, green means paper, and blue means scissors. You can't use this color code on the last hand waiting for you at the end of the road though. To beat that last hand, you should just play the traditional game and choose rock against scissors, paper against the rock, and scissors against the paper. Then you will land one finishing blow and send the hand flying towards a treasure chest. These chests can boost you in different ways from power to golds and new skins, but they are not the only way to obtain them. You occasionally get free draws that you can spin again by watching an ad. There are also skins that you can get quickly by watching short ads. Whether it is with gold or some help from ads, there is a lot to unlock and upgrade.
If you like this game, there are more running games you can play by clicking here.
Developer
Mad Buffer developed this game.
Release Date
November 2, 2021
Features
Colorful 3D graphics
Fun skins
Easy to play
Available on mobile devices
Controls
You can use your mouse to play this game.