Play Now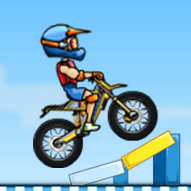 In Moto X3M Pool Party, you better bring your towels and sunscreen, because the sun is shining and we're going to the pool! Just like in the other titles of this popular series, you should be prepared to brave the various challenging levels and the thrilling tracks in them. Wear your helmet and get yourself ready for the action!
Other might prefer swimming in this hot day, but riding your bike on the dangerously placed tracks full of obstacles suits more to your sense of fun. Your objective in this game is to complete each level by reaching the end without dying. This may seem simple but you should be careful. Each level is filled with extreme tracks that'll most likely send you to your death. There are 22 different levels in the game but only the first one is available when you first start. Use the arrow keys to ride your bike. You earn stars based on your completion time. You can see how many seconds have passed at the top of the screen. Performing stunts will remove seconds from your time, so try to do them as much as you can. You can use 3 different bikes. The first one is the default one while the last two require stars to be unlocked. Good luck!
Can't get enough of this game? Then try the other title in the series, Moto X3M 4: Winter. Enjoy playing!
Developer
MadPuffers developed this game.
Release Date
March 2019
Features
22 different levels to complete
Challenging level designs
Can use 3 different bikes
Amazing stunts to perform
Intuitive controls
Entertaining gameplay
Controls
Use WASD keys to control the bike.