Play Now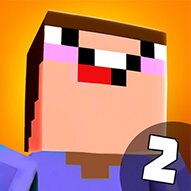 Join the underground adventures of Noob and Pro with Noob vs Pro 2 Jailbreak! These two guys with completely opposite humors are starving for action! Noob, our dorky criminal, and Pro, who happens to be a little more serious, are trying to escape their prison cells. Help them with their attempts and see how the story unfolds!
There is not one level in this game that is possible to pass on the first attempt. So ready your nerves and prepare yourself for the silly and hilarious situations these guys put themselves in. Start with Noob's minecart and upgrade it to the fullest potential to get him away from the caves full of zombies. Every try earns you some money you can use to unlock and upgrade the main four features of your car: engine, tires, fuel, and weapon. Move further every time and break out to open-air just to face Cheater: our villain with unnatural powers. Skip to Pro's side of the story and upgrade this professional's gear and armor to get him out too. Increase his attack and running speed to give him even more power. Face new challenging enemies as our heroes advance and finish their story!
If you like giving life to breathtaking stories, you can check out our Adventure Games category by clicking here.
Developer
Noob vs Pro team developed Noob vs Pro 2 Jailbreak.
Release Date
April 12, 2022
Features
Colorful pixel theme
Funny character design
Upgradable content
Amusing story
Available on mobile devices
Controls
You can use your mouse or the spacebar to play this game.