Play Now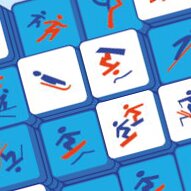 Carry the soul of the winter games into your favorite puzzle with Olimpian Mahjong! Race against time with more than thirty levels of increasing challenge and improve your attention skills while retributing to the Olympic Winter Games' Spirit! Don't forget to enjoy the simple theme and try to associate the tiles with the right sports!
Mahjong is a traditional puzzle that originated in China and is now played worldwide. The main goal of this ancient game of attention test is to find and match similar tiles in a given time. The pieces are piled on each other in front of you, and they start unraveling from the top to the bottom in order. You can only match these available tiles. Also, you have a certain number of moves available, and after you run out of them you can shuffle the tiles for free for the first time, and by watching a short ad after that. The puzzles get more difficult as you advance through levels, but it's always free to try once more and get better with experience! Don't lose your patience, and give yourself another chance to experience the winter sports spirit!
If you like this game, you can check out our puzzles category by clicking here, and try different kinds of brain gymnastics while having fun!
Developer
bestphysics developed Olimpian Mahjong.
Release Date
January 14, 2022
Features
Easy controls
Unique tile designs
2022 Winter Olympics theme
Improving puzzle skills
Available on mobile devices
Controls
You can use your mouse to play this game.