Play Now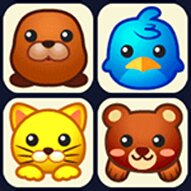 Dive into the cute and radiant world of these squishy icons in Onet Connect Classic. Get ready to relax a little and clear the tiles off the table within the given time. Can you clear all the tiles and get many points in this connect game?
Before you begin the game, you must make a difficult decision. Between cute little animals, juicy fruits, and sweet candies you must choose one as the theme of the game. After you make a decision, begin playing this amusing connect game with the themes you choose. You are expected to match the identical pairs with the same icons in this table. When you find two identical tiles with free sides to draw a line between them, they will be cleared off the table. This will earn you some points. Be careful though, you must get all the points you can before your time is up. Apart from the time limit, you may have some difficulty in matching as many tiles as you like. Then you can apply to shuffle bonus that repositions all the tiles and get a hint, too. There are only 5 shuffle bonuses and 3 hints, though. Now get ready to pop all the identical tiles and get many points!
If you enjoyed playing Onet Connect Classic, you can take a look at our collection of online and free puzzle games. Enjoy!.
Developer
Famobi developed Onet Connect Classic.
Release Date
October 2021
Features
Colorful graphics
Calming gameplay
Cute icons
Intuitive skills
3 different theme options
Controls
You can use your mouse to click on the tiles to connect them.