Play Now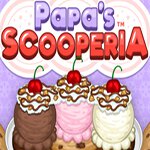 In Papa's Scooperia, you never imagined your trip to the famous city Big Onion would be this eventful! After getting robbed of all your money and left without a dime, you found a job at Papa Louie's ice cream shop. Can you serve the best ice cream to the residents of this bustling city, and turn this shop into a hot spot? You better wear your name tag and remember to smile while taking orders!
Whether it's a hot summer day or a chilly afternoon during the fall, no one would say no to delicious ice cream. Your objective in this game is pretty simple. All you have to do is to take your customers' orders and give them what they want! You can play the game with your mouse, so click on the play button to start the game. Before heading into the shop, you should pick a character first. You can pick from one of the two options or create your own character. When a customer arrives, click on the icon on them to take their order. Then visit the dough station to prepare the cookie dough and visit the baking station next. After the cookie is baked, take it to the building station to add the ice cream and the other toppings. Lastly, drag the ticket and serve the dessert to your customer! Enjoy!
Papa Louie has many other shops that you can work at! Have you checked Papa's Freezeria yet? Have fun!
Developer
Flipline Studios developed Papa's Scooperia.
Release Date
July 24, 2018
Features
4 different stations to use
Lots of customers to serve to
A large variety of recipes
Fun mini games to play
Colorful 2D graphics
Can customize your own character
Controls
Use your mouse to play this game.