Play Now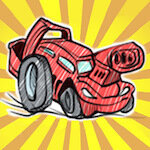 Paper Racer will take you to a sketchbook world filled with challenges and danger! If you believe you have what it takes to prove you're the best driver, then you're in the right place. Fasten your seatbelt, put on your helmet, and get ready to brace the thrill!
Featuring many different challenging levels, it takes a real daredevil to master this game. Your objective in this game is to complete each track by collecting a specific number of stars. You have many different vehicle types at your disposal. The game features different episodes, and each one of them has 9 different levels in it. When you complete an episode, you can unlock the next one. You don't need a driver's license to use the vehicles in this game. Just use the WASD or the arrow keys to move around, and use the Z key or the space bar to turn around! Once you complete the career levels, why not try your luck in player-made levels? You can check the track of the day or browse all player-made creations from the all tracks section. Have fun and good luck!
Don't take off your helmet just yet! There are more challenges to tackle in our other popular game, Line Biker. Click here to start playing now! Enjoy!
Developer
The Ukranian developer Nikita Shimin created Paper Racer.
Features
9 entertaining career episodes
Beautiful doodle-styled 2D graphics
Addictive gameplay
In-game shop to buy different items
Can create your own avatars, tracks and vehicles
Daily missions
Controls
Use the WASD or the arrow keys to control your vehicle. Press the SPACE BAR or the Z key to turn around.