Play Now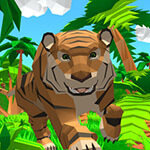 In Tiger Simulator, roam in the jungle and experience the life of a strong tiger as you take control of one. Get ready to roam in a vast open world filled with different characters and quests. Can you live a happy life and grow a family?
As one of the strongest felines, tigers are fast and beautiful. Your objective in this game is simple and fun. You take control of a tiger and complete various quests and try to start a family. To begin, click on the play button on the main menu. After that, pick a gender and give a name to your tiger. Once you're in the world, you can travel around with the WASD keys, and jump with the SPACE BAR key. On the upper right side of the screen, you can see your minimap. The blue arrow is you, while other characters are shown with different colors depending on their aggression levels. To get quests, approach characters with an exclamation mark on them. You can attack and kill other animals and people and can earn meat. You can eat or collect it. In the top left corner of the screen, you can see your health, stamina, coins, and meat. Have fun and good luck!
Run around, and howl to the full moon as a wolf in our other popular game, Wolf Simulator. Enjoy!
Developer
Cyber developed Tiger Simulator.
Release Date
April 23, 2018
Features
Colorful 3D graphics
Different quests to complete
Can make a family
Addictive gameplay
Open world
Controls
Use the WASD keys to move around. Hold the SHIFT key while walking to run, click on the screen to attack, and press the SPACE BAR to jump.