Play Now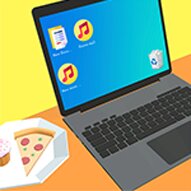 Get ready to play with a computer within a computer in Personal Computer! This fun game will let you spend time just relaxing and chilling with your most beloved; your computer. We know you can't just get enough of your computer, so here's a game for you to be busy with a computer even more!
In this game, you will be given a series of tasks to complete on your computer. But not on your own computer! Here, you will see a laptop at your service. You will use this computer to complete the tasks. With graphic designs that create a fairly realistic computer, you can play around having fun. Change the desktop background, remove files, sort documents, and even edit word documents! Occasionally, you will need to destroy viruses or update the system, too. Feel free to draw funny drawings and e-mail them, too, when you're given that fun task. Now, complete the tasks and collect the points!
If you enjoyed this interesting game, you may check out our collection of free and online puzzle games, too!
Developer
Nevar Games developed Personal Computer.
Release Date
November 04, 2022
Features
3D colorful graphics
Intuitive skills
Interesting gameplay
Multiple levels
Computer simulation within computer!
Controls
You can use the mouse of your computer to choose the options and complete the tasks.