Play Now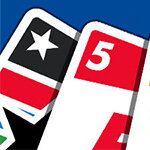 In Phase 10, it's time to play with cards and eliminate your opponents! Whether you've never heard of this game before or you play it frequently, we're sure you'll love the simple and fun gameplay of this title. Shuffle the cards and start playing now.
Featuring colorful graphics and different levels, get ready for hours of fun. The objective of this game is pretty simple. You try to pass each level by completing different objectives before your opponents. These objectives are called phases, and usually require you to group different cards. When you start the game, you'll be in the first area and can see the levels. In the beginning, only the first level is available but you can unlock the rest as you play. Clicking on a level will bring up a window where you can check the requirements to complete the level. Each player will receive cards. Click and drag the suitable cards to the phase decks in the middle of the screen. You can check what to do to complete phases by clicking at the question mark button. When you complete a phase and empty your hand, you'll win the game. In further levels, there are more phases to complete to win a level. Good luck playing!
For more challenging games to test yourself either solo or against other players, be sure to visit our collection page of online free puzzle games by clicking here. Enjoy!
Developer
Mattel developed Phase 10.
Release Date
February 3, 2020
Features
Colorful 2D graphics
Lots of different levels to complete
Multiplayer gameplay option
Simple controls
Controls
Use your mouse to play this game.