Play Now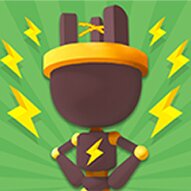 Plug Run Race puts you in a plug's shoes to raise awareness about the struggles they go through every day. Have you ever considered your plug's emotions while trying to force them into sockets? Did you ever ask them about their day, or if they need anything? No. You forget about them the second you are done with them. But that's it. Today is the day they run for themselves.
Welcome to your next life, and congrats, you are a plug! The only problem about it is you don't have much time to rest between races. The competing plug next to you is all the inspiration you need; so get ready, set, and go! Click and hold to keep running, but you should be careful with timing before using the sockets or passing obstacles. Mistakes slow you down, so they are perfect opportunities for your opponent. If you get stuck at a level, you can watch an ad and pass to the next, but what kind of a plug would that make you? Collect rewards and unlock even more fun plug skins to play as! Explore new challenges and increasingly difficult platforms at every level!
If you like funny-themed racing games, you can check out Join Scroll Run and join a ring of huge-headed neon babies.
Developer
YAD.Com developed Plug Run Race.
Release Date
February 21, 2022
Features
Colorful 3D graphics
Funny theme
Addictive and fun gameplay
Easy controls
Available on mobile devices
Controls
You can use your mouse to move your character.