Play Now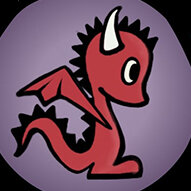 In Run Little Dragon, our baby dragon needs your help to embark on a dangerous journey! Our character dreams of the day he will soar through the sky but alas, he may be a dragon, but he still doesn't know how to fly. Can you help him find the legendary potion that will grant him the ability to fly?
Everyone has a dream and our character dreams of flying. In this game, you need to help him by finding the dungeon of the flying potion. You must be his wings now and help him overcome all the obstacles. There's a catch, though! Overcoming all the obstacles isn't enough on this journey. You need to collect as many coins as you can to give them to the witch who will unlock the dungeon for you. There are many dungeons where you can find coins, so let's start with the first one! Click as many times as you want to jump higher. Collect all the coins and avoid the spikes or bombs that await you unless you want to turn into a fried chicken. At the end of each level, the witch will ask you if you have enough coins to unlock the dungeon. Keep going until you have 450 coins. Good luck!
If you want to spend more time with these mythical creatures, go ahead and check out Fire Dragon Adventure . Have fun!
Developer
barbrilue developed Run Little Dragon!
Release Date
June 26, 2019
Features
Fun gameplay
Many levels to complete
Intuitive controls
Nice 2D graphics
Controls
You can use your mouse to play this game.