Play Now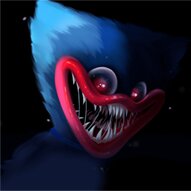 Find all the keys and run out of the haunted house with Poppy Huggie Escape! Run from door to door in the dark, try to collect all the keys to pass onto the next room, and watch out for the obstacles that can slow you down and get you caught by Huggie!
Nothing is on your side in this house; the lights are off, there are holes in the ground, and there is this creepy music playing in the back non-stop. Turning back and running toward the way you came in is not an option because the violent evil mascot Huggie is running after you, so now, you can only move forward. Focus on timing your jumps and ducks precisely because getting stuck behind a barrier and falling into the calws of the monster ends the game, leaving you with a scary ending. You must restart after that to carry your best score further. Jump over holes and traps, duck under hanging spikes, and collect as many keys as possible to open the door to the next level. Collect and save these keys to unlock new monsters to chase after you! You can play against Huggy, Freddy, Sonic.exe, and Zombie Impostor!
If you like horror games and Huggy, you can check out Poppy Survive Time: Hugie Wugie and find your way out of another maze!
Developer
kiz10.com developed Poppy Hugie Escape.
Release Date
June 9, 2022
Features
A dark and creepy atmosphere
Easy to play
Unlockable famous horror characters
Available on mobile devices
Controls
You can use the arrow keys to play this game.