Play Now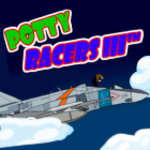 In Potty Racers 3, get ready for an exciting and extraordinary challenge once again. As the third game of the popular series, jump into the signature vehicle of the game, a potty car, and try your best to complete various tasks to prove that you can use unusual methods to achieve victory if you're persistent enough. Get ready to reach the skies, and prove that you're a true genius by improving your unconventional vehicle.
Birds will be surprised to see you with them among the clouds. Featuring 8 different challenging missions and a variety of upgrades and power-ups to unlock on your journey, you better start now. The objective of this game is to complete each one of these missions. You start with a base vehicle, but as you perform jumps you'll earn money. You can use this money to purchase upgrades, new parts from the scrap yard for your vehicle, and lastly, tricks to perform. Each upgrade has different tiers that you can unlock but each tier requires more money than the previous one. To play the game, press the right arrow key to push your potty and once you get off the ground, use both left and right arrow keys to balance yourself. When you unlock the engine, you can use the SPACE BAR to activate it, but keep an eye on your fuel. Don't forget to collect the stars for extra points!
Be sure to chekc our other fun title Madmen Racing for another eccentric racing experience! Enjoy!
Developer
Gonzo Games developed Potty Racers 3.
Release Date
August 2011
Features
Colorful 2D graphics
8 different missions
11 different upgrades
6 different tricks
Intuitive controls
Controls
Use the arrow keys to move and balance yourself. Press the SPACE BAR to activate your engine.