Play Now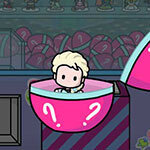 In Princess Claw Machine, there are so many different figurines of your favorite popular princesses. Don't worry about finding a change, because this claw machine is free to use. Can you collect all the figures and decorate your shelves with them?
With so many figurines to find, you'll have a lot to do in this game. Your objective is pretty simple and fun. In this game, there's a collection of various princess figurines, and you'll try to collect them all by using the claw machine. You can play this game with your mouse, so click on the play button on the main menu to start. In the machine, you'll see lots of eggs. The princesses are inside those, so use the buttons on the control panel to grab one. Use the button with the arrow on it to move the claw, and then press the other button to make it grab an egg. If the egg doesn't fall down, the claw will take it to the drop point and you can collect it. Click on the egg to open it. This will take you to the collections screen. Clicking on the figures you've found allows you to place them on the shelves. Use the buttons below to visit the shelves screen. Click and drag the figures to place them. Enjoy!
Another princess needs your help in our other popular game, Cinderella Shoes Designer. Have fun!
Developer
DressUpWho developed Princess Claw Machine.
Release Date
July 17, 2018
Features
48 different princess figures to collect
Colorful 2D graphics
Intuitive controls
Entertaining gameplay
Lots of different princesses
10 different achievemnts to earn
Controls
You can use your mouse to play this game.