Play Now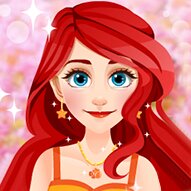 Princess Lovely Fashion gives you the job of spoiling our two adorable princesses who have been working hard lately. These two besties, Eliza and Annie, are under pressure from their successful and royal families, and it can get overwhelming for them sometimes. Luckily, they have time for some self-care today, and you are here to help them!
There are two main steps for both girls: makeup and clothes. Princesses have different styles and wardrobes, and there will be cameras involved, so consider their differences while dressing them up. Start with our first precious princess's makeup and try to achieve a color match. Change her contact lenses, use different colors for each eye if you would like to create a mystical look, and choose the perfect blush to complement her complexion. Unlock lipstick options by watching a short ad, and let's get to the clothing! Her hair options are also unlockable. Check out her shirts, skirts, and dresses to create the perfect combination. Now you can prepare Annie. She also has this unique style that is nothing like our first princess, so consider all options separately, and make both these girls stand out and shine under the camera flashes! Congrats, you are now a royal stylist!
If you would like to dress princesses for special occasions, you can check out Princess Safari Style and clothe the same beauties for an unusual trip!
Developer
iclickgames developed Princess Lovely Fashion.
Release Date
March 25, 2022
Features
Easy to play
Two different wardrobes
Fun for all ages
Unlockable extra content
Available on mobile devices
Controls
You can use your mouse to play this game.