Play Now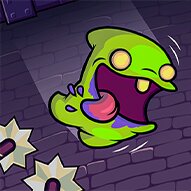 Survive the randomly built platforms of Prisonela! Help a tiny monster queen find her way out of the iron bars! Survive deadly traps, poison jelly pools, fire attacks, and canon balls! Reach the sacred fire across the room or wake up in another random nightmare built around prison traps!
Welcome to the most unusual prison! This place was built to keep all types of criminals away from the monsters' society. Our little monster queen, on the other hand, is in for a crime she did not commit, and she needs to get out now! This place is a nightmare maze, but you can always keep trying! There are no levels or difficulty options; every time you die or pass a stage, you wake up in a new random room. Each try throws you on another platform with its unique death options. So, relax, sit back, enjoy the arcade music, and start dying! There is no time to think once you set foot on the platform, so plan your route and set your timing right. Use the three main directions to run, jump, and double jump. You don't have to be afraid of bigger prisoners, but the tiny guardians are deadly. Good luck!
If you like this arcade adventure game, you can check out our other Adventure Games to find more games like this!
Developer
Stickman vs Monster School Team developed Prisonela.
Release Date
August 16, 2022
Features
Fun arcade theme
Upbeat music
Random level designs at each try
Simple controls
Addictively challenging
Available on mobile
Controls
Use the arrow keys to move left and right and jump.