Play Now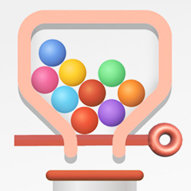 Pull the Pin is testing your mind with a challenging game filled with colorful graphics! Pull out the pin at the right angle and time to allow all the colored balls to drop down in the jar! Can you pull the pins and get the balls to where they are supposed to be?
It sounds simple, gravity pulls the balls down towards the pipe, but there are some pins in the way! Playing with balls can be a really fun and easy activity, but there are some tricks in this game that you should be very careful about! Your aim is to pull the right pins in the right order to get all colorful balls to the jar below. You can use your mouse to click on the pins. Sometimes the balls can be colorless, if you pull the pin and they go into the jar as white, you are failed! They should be touching the colorful balls, so the color spreads to them as well. Be careful! Sometimes pulling the pins drops other things instead of balls like bombs! If you can detonate it without touching the balls, you can get more points. Can you pull the pins in the right order or not? If you are ready, start to play!
Do you trust your skills at puzzles games? If so, take the different challenges in our collection of free and online puzzles games.
Developer
BestGames developed Pull the Pin.
Release Date
February 19, 2020
Features
100 levels to complete
Colorful graphics
Easy one-tap controls
Entertaining gameplay
Controls
You can use your mouse to play this game.