Play Now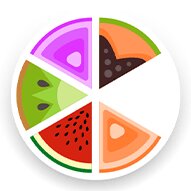 In Puzzle Pieces, a colorful puzzle adventure filled with geometrical shapes awaits you. Featuring nice 2D graphics and 60 levels in 6 different game modes, this game will keep you hooked and asking for more. Are you ready to give your brain a workout and see if you will be able to complete all the levels?
Are you looking for a game that will make you play for hours on end? One that will challenge you while having fun? Say no more! Here's a puzzle game that will make you keep begging for more levels. Your objective is simple. You need to create circles with the pieces you have been provided. To play, you can use your mouse. Click on the piece in the middle of the screen and move it to the outer circles. There are 6 outer circles that you can use. Move the pieces to them to create circles. Click on the piece and then the circle you want to place it on. You need different shaped pieces to complete the circles. When you complete one, you'll earn points. Earn 30 points to complete a level. In some levels, you'll race against time or even have to create some certain shapes. Just how many levels do you think you can complete? Have fun playing!
There are more puzzle games like this one you can check out in our collection of online and free games. You can check out other puzzle games by clicking here. Enjoy!
Developer
Inlogic Software developed Puzzle Pieces.
Release Date
May 25, 2021
Features
Fun and addictive gameplay
60 levels to complete
6 different game modes
Colorful 2D graphics
Controls
You can use your mouse to play this game.