Play Now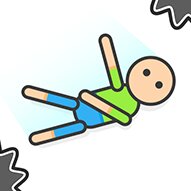 In Ragdoll Fall, you need to take control of a bouncy stickman! This stickman can bounce on the ground but unfortunately, he is not flexible enough and can break apart so easily! You should also keep an eye on the environment. You may come across a variety of challenges that might damage him. All you'll need is your mouse and a little concentration. Let the game begin if you are ready now!
Our ragdoll needs you urgently! He needs to reach his destination, but the path is so dangerous for him to walk alone! The lands are separated from one another by such a great distance that the ground is invisible. You must help this stickman in moving around in a safe way. Fortunately, he loves jumping and bouncing. To slow down, you'll need to click or tap on the screen. You will lose if he falls, and the game will be over. Also, keep an eye out for sharp saws and spikes! You lose again if you touch any of the saws. Your score is displayed at the top of the game screen. It's written in a bold blue font. You may check your current and best score after the game finishes after you fail. Best of luck, and have a great time playing!
Do you want to play more games like this one? If so, take the different challenges in our collection of free and online skill games.
Developer
QkyGames developed Ragdoll Fall.
Release Date
July 21, 2021
Features
2D colorful graphics
Endless jumping adventure
Obstacles to avoid
Fun and addictive gameplay
Controls
You can use your mouse or touch controls to play this game.