Play Now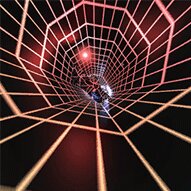 In Rage Quit Racer, travel to Space to find yourself in a theme park. Featuring nice 3D graphics and fast-paced gameplay, this game will take you above and beyond. Do you think you can unlock all the maps in this arcade game?
In a galaxy far, far away, someone made tunnels that are full of obstacles. Few dare venture there to see if they will be able to reach the end of each tunnel. Always an adventure-seeker, ever since you have heard of the tunnels, you have wanted to go there. Now is your chance to prove yourself and have fun at the same time. There are eight maps in total. You need to reach the end of the tunnel to unlock the other maps. You can either play with the arrow keys or WAD keys. Press the left and right arrow keys to tilt and press the up arrow key to speed up. Avoid all the obstacles and collect all the boosters. The green stars give you shields that will protect you from obstacles. Blue stars give you points, and the yellow rings give you speed boosts. You may encounter spaceships along the way. Don't hit them, or you'll lose one of your shields. If you lose them all, the game is over. At the end of each level, you will earn coins that you can use to buy the lucky shield buff. Good luck!
If you are looking for more games like this one, you can check out Run. Enjoy!
Developer
Drmop Games developed Rage Quit Racer.
Release Date
July 01, 2021
Features
Colorful 3D graphics
8 different maps to unlock
Boosters to get
Intuitive controls
Controls
You can use the arrow keys or WAD keys to play this game.