Play Now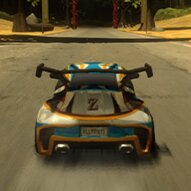 Are you ready for Rally Point 3? One of the most popular racing game series Rally Point is here now, at our platform for free and online! Featuring new tracks, you will love driving your latest fashion sports cars in the middle of wild nature. Take your chances, push the limits of your speed, and hit the roads. The only thing you'll do is to drive as fast as you can to complete the levels! Can you do that? Let's see now!
With 6 new tracks, this 3D racing simulation game will lock you in front of the screen for hours of fun! You will not be racing with your car only. You will also push the limits of the engine to outpace the time! When you enter the game, select the first track. Then, choose one of these fascinating vehicles. The first road you'll come across is Mountain Speed. Your objective will be to reach the finish line as soon as possible. Use the keyboard arrows to drive and the SPACE BAR for Nitro. You can use the Shift button for performing amazing drifts! Don't load on nitro too much, though. If you use it for too long, the engine will explode. Finish the tracks one by one to unlock new car options. How fast can you drive these sports cars without overheating? If you are curious, let's find it out now!
Can't get enough of adrenaline? If so, jump into our collection of free and online racing games to feel the thrill in your veins even more!
Developer
Xform developed Rally Point 3.
Release Date
August 26, 2021
Features
3D colorful graphics
Entertaining gameplay
6 different roads
Challenging gameplay
Controls
You can use your mouse to play this game.