Play Now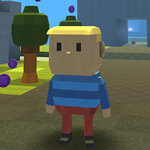 In Real Minecraft, thrilling Kogama adventures continue with a new theme based on one of the most popular game series, Minecraft! Like the previous versions of Kogama, choose your team and beat your enemies! But this time, the environment is more exciting, and the battles are more challenging. Collect the purple tokens, get enough equipment, and build up your empire while eliminating your opponents now!
The two entertaining and addictive game series are gathered and a fun adventure that you will not be able to stop yourself playing came out of it! In this fun skill game, you don't have a strict objective that you should follow. Instead, it is all designed for you to have fun the way you want. By signing in, you can save your progress and enjoy various extra packs to improve your character. Choose your color symbolizing your group, team up, and start discovering the area. Each team has a different starting point and environment that allow you to buy necessary equipment by pressing the "E" key. To drop your item like weapons and flying machines, you can use the "Q" key. Use your arrows or WASD keys to move, and your mouse will allow you to change the camera angle. If you die because of the environment or get killed by another player, you can restart the game as long as you want. Good luck and have fun!
If you want to try another adventure of these two popular series, then you should definitely check Kogama Minecraft Sky Land.
Developer
Kogama developed this game.
Features
3D colorful graphics
4 teams with different colors to choose
Different character customization options
Online gameplay with players all around the world
Controls
The arrows or WASD keys to move. The SPACE BAR to jump. "E" key to collect items and "Q" key to drop them.