Kogama Minecraft Sky Land
Play Now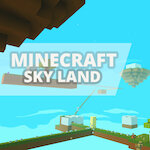 In Kogama Minecraft Sky Land, turn your head up at the sky and start building with your teammates. Featuring 3D graphics and online gameplay, you'll get the chance to both cooperate with and fight against other players. If you're up for the challenge, then let's get into this amazing world!
Playing with blocks is fun, but what's even more entertaining is to build with others. As a sandbox game, you don't have a strict objective in this game. You try to build different buildings and constructions with the players in your team and fight against the rival team to hinder their progress in creating things. When you enter the game world, you'll be spawned on one of the many floating platforms. With the E key, you can interact with different tools. When you see a tool such as a weapon or a block dispenser, approach it and press the E key to equip it. In the bottom right corner of the screen, you can see both your ammo/item count and your health in red. Be careful while walking around. If you fall off the platform, you'll die. Collect purple tokens to use different tools and upgrade the appearance of your character. Enjoy!
If you want to play a similar game, why not check our other popular and fun title, Real Minecraft? Have fun!
Developer
Kogama developed Kogama Minecraft Sky Land.
Features
Colorful 3D graphics
Online multiplayer gameplay
Different character customization options
Entertaining gameplay
Intuitive controls
Lots of different tools to build and battle
Controls
Use the WASD keys to move around and the SPACE BAR key to jump. use the mouse to aim and shoot.