Play Now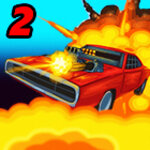 In Road of Fury 2, Cole hits the road with an experimental nuclear engine under the hood of his car, and a bunch of thugs after him. Help Cole to reach his destination, and defeat anyone who dares to oppose him. Can you survive the constant attacks of your enemies?
Taking place in a post-apocalyptic world, nowhere is safe in this game. The main character has a fast car, and he needs to deliver a special cargo. Your objective in this game is to complete each level by reaching the end while trying to survive. The vehicle you control in this game has a big and powerful machine gun attached to its hood. When you start the game, the car will move on its own. All you have to do is to control that gun with your mouse. Aim at the enemies and kill them one by one before getting too much damage. In the beginning, you won't last long and die pretty quickly. With the coins you earn by killing enemies, you can upgrade your vehicle. Can you survive long enough to reach your destination?
If you're looking for a similar experience, be sure to try our other popular game, Road of Fury: Desert Strike. Enjoy!
Developer
IriySoft developed Road of Fury 2.
Features
Colorful 2D graphics
Multiple levels to complete
Intuitive controls
Entertaining gameplay
Different upgrades to unlock
Controls
You can use your mouse to aim and the 1, 2, and 3 keys use special weapons.