Road of Fury: Desert Strike
Play Now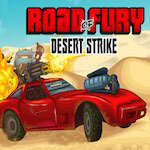 In Road of Fury: Desert Strike, the Corp hired you to claim a powerful device. As one of the best, your enemies know that you're coming for them. Jump into your trusted car and head into the desert to complete this profitable mission. It's you versus the world, but no one can stop you. Can you drive far enough to take the gadget back to the Corp?
Just like in the other titles of this series, you better get ready for a long ride. Your objective in this game is to drive as far as you can in each area to complete them. The Corp lacks the funds to aid you, but you can earn money by yourself. When you start the game, you'll see your garage first. Click on the play button, and pick an area to play in. There are 3 different areas that you can play, but you have to unlock the last 2 of them. When in the game, your character will drive on his own. All you have to do is to use your mouse to control your weapons to aim at your enemies. With each enemy you kill, you'll earn money. You can use this money to unlock different gadgets and upgrade your vehicles. As you reach certain distances, you can unlock extra cars with different weapon types. Try to survive as long as you can to earn the most money and points. Good luck!
For more games like this, be sure to check our collection of online and free action games. Enjoy!
Developer
Iriysoft developed Road of Fury: Desert Strike.
Features
Colorful 2D graphics
Intuitive controls
Multiple levels to beat
Different upgrades to purchase
Entertaining gameplay
Controls
You can use your mouse to play this game.