Play Now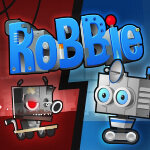 In RoBBiE, prepare yourself to stop the robot uprising! Our sweet little Robbie had a bad day at work today and needs to clean himself now! But there's one problem. Another robot saw him use the cleaning machine and wanted to use it as well. But now the machine is broken, and all the robots have turned evil. Its now your mission to undo the damage the other robot has caused! Lets go then!
All Robbie has wanted today was to go home and relax. But everything has gone wrong and the robots have turned evil. But with you by his side, hell complete each level easy peasy lemon squeezy! Your objective is to collect the lost microchips and repair the broken machine. That's the only way to fix the robots. To do that, you need to complete each level and solve the puzzles. Evil robots and all other kinds of danger await you on this journey! But a brave hero like you can find a solution to everything! Use the left mouse button and poke the surroundings to solve the puzzles. Interact with different objects and click on and drag the screen to see the challenges the levels present you with! Get rid of each obstacle and restore order! You know you got this!
If you like playing puzzle games and solving mysteries, then you should check out Snail Bob 8 and help our brave snail return to his grandpa!
Release Date
December, 2017.
Features
Challenging puzzles to solve
Multiple levels to complete
Fun gameplay
Colorful 2D graphics
Controls
Use the left mouse button to play this game.