Play Now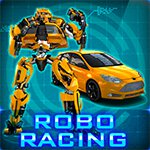 In Robo Racing, get ready for some action! Your enemies are everywhere, and you're the only one who can stop them. Take control of your robocar and hit the roads to defeat all of your rivals through multiple levels. Do you have what it takes to complete all the levels and show your enemies that you're indestructible?
Robots are everywhere, and you get to control one disguised as a car in this game. Only showing your true form when it's necessary, your enemies don't know what they're dealing with. Your objective in this game is to complete each level by reaching the end of them as you defeat the enemies you encounter. To start the game, click on the play button on the main menu, and select a slot to save your game. Next, you'll see the level selection screen. There are 20 different levels in the game, and you unlock them one by one. Drive your car through the levels and collect the money you see on your way. You can upgrade your stats and become even more powerful. Can you survive through all the levels?
Looking for another game similar to this one? Then go ahead and check our other title, Car Eats Car: Dungeon Adventure. Have fun playing!
Developer
Azerion developed Robo Racing.
Release Date
July 26, 2019
Features
20 different missions to complete
Colorful 2D graphics
7 different stats that you can upgrade
10 different achievements that you can get
Controls
Use the WASD or the arrow keys to move your car. Press the SPACE BAR to jump, the X key to use nitro, and the Z key to use your rockets.