Play Now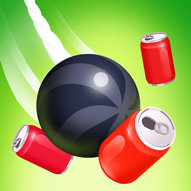 In Rope Slash, someone stacked cans on top of each other! It's time to bring these down through multiple levels with your strategic thinking and the help of the physics of this game. So grab your scissors and free the balls to crush those cans!
It's time to roll, friend! Your objective in this game is very fun and simple! All you have to do is to try to pass each level by removing all the cans in them. You do this by freeing the ball from the rope it's hanging from and make it reach the cans. You can play this game with your mouse, so let's start! Each level has platforms that the ball can travel on. What you should pay attention to is the obstacles on the way. Click and hold the left mouse button and swipe the cursor through the rope tied to the ball to cut it. When the ball is free, it'll move according to physics, so keep that in mind. Earlier levels are relatively easy. As you progress through the game, the levels will introduce different mechanics and obstacles. Also, try to collect all the keys you can, as you can unlock chests and earn gems! Have fun playing!
Be sure to check our other fan favorite game, Cut the Rope Experiments next! Enjoy!
Developer
Mixgame.net developed Rope Slash.
Release Date
December 8, 2020
Features
Colorful 2D graphics
Challenging level design
Multiple different levels to complete
Intuitive controls
Entertaining gameplay
Controls
You can use your mouse to play this game.