Play Now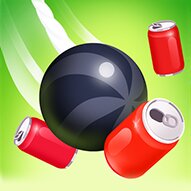 Solve puzzles, cut ropes, and drop the ball with Rope Slash Online! Collect shiny stars and hit the beverage cans to complete fun puzzle levels! Master the art of logic through the simple controls, place objects with just one touch, and change the whole puzzle table! Let's dive deeper into this game of balls and cans!
The game gives you a puzzle room with all the instruments you may ever need: a ball hanging on a rope, moving and stable platforms, golden stars, and a group of cans! You might also get boxes, blocks, and extra materials to make it possible for you to collect all stars and reach the cans. Use your imagination, wait for the right time if the ball is swinging, and cut the rope to drop it on the platform! The ball will speed up while rolling down the slopes, take whatever is on its way, and hit the cans if you got it right. You must pick up all stars in one level to complete that level with the highest score. The puzzles will get more difficult as you advance through stages, but keep trying, and you can see your logic skills are improving! Complete all levels to master this puzzle!
If you like this addictive game, you can check out our other Puzzle Games to find more games like this!
Developer
kiz10.com developed Rope Slash Online.
Release Date
August 4, 2022
Features
Colorful 2D graphics
Glowing effects
25 challenging levels
Easy to play
Available on mobile
Controls
Use your mouse or tap and slide to cut the rope.