Play Now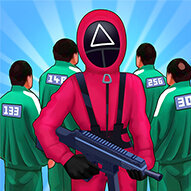 Can you be the winner and get all the money in Squid Challenge? This risky and scary game has attracted you because what you may earn is nothing to oversee. We are talking a lot of money here. You can be a millionaire or fail to save your life. Are you ready to run for your life and work hard to get all the money?
In this risky challenge, you are given a chance to change your life. But nothing is free in this world. So, you must risk your life with your consent to try to get the money. If you can pass many dangerous sets of games, you can finally become the winner. In this game, you are given many levels. At each level, you will see five different rounds of dangerous games. You start with the now-classic redlight, greenlight. Be careful not to move once it is the redlight not to be shot. Also, you must make sure that you reach the finish light in time. In the second round, you will play the honeycomb sugar challenge. Try not to overuse your power not to break the sugar. You should click left on your mouse in a balanced way to scratch the sugar from the table in the given time. If you can pass this game, you will be playing tug of war. You should rapidly click on the left-click to not be the side to fall. Then you will be throwing the marbles on the pit to get them farther than your rivals. Finally, you will have to keep in mind the way of the tempered glasses to jump on. If you can get across to the platform without falling, you will be the winner of the game and get all the money!
If you enjoyed playing Squid Challenge, you should try playing Temple Quest by clicking here.
Developer
OneTwoPlay developed Squid Challenge.
Release Date
October 18, 2021
Features
• 3D colorful graphics
• Intuitive skills
• Challenging gameplay
• Addictive levels
• Five different levels to challenge yourself
Controls
You can use your mouse to click on the options and play the games.