Play Now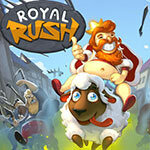 In Royal Rush, you are the ruler of the biggest kingdom in the game world and you are running for a great mission! Maybe it is not the best fit for a king, but you are traveling on a sheep. It is time for you to step forth and realize this journey on your own to save your kingdom. How long can you stay on that sheep without face an obstacle?
As the leader of the royal family, you have a big responsibility to take in rush. You have to take roads of an endless adventure in which you will encounter not only many obstacles but also various golds and boosters. In this fun skill game, your objective is to stay on the sheep as long as you can without hitting any obstacle or falling into the water. While on your way, try to collect the coins to buy various boosts and upgrades. There will be wild dogs following you, objects appearing in front of you, and even people falling on you but use your up arrow or "W" key to jump and hold pressing to make your jump double. To speed up, press the right arrow if it is necessary. Good luck and enjoy your journey!
You can try another game as entertaining as this one but full of sushi, then be sure to check Super Sushi Cat A Pult.
Developer
Yepi developed this game.
Features
2D colorful graphics
Endless running adventure
Various upgrades and boosters to unlock
Entertaining and addictive gameplay
Controls
The up arrow or "W" key to jump. Press twice and hold the buttons to double jump. The right arrow or "D" key to speed up.