Play Now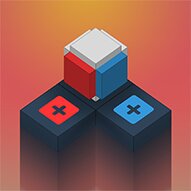 Paint the faces of your cube to solve the puzzles of Rubek! Build colorful plans for each level, use buttons to make new ways toward your goal, and get stars for your strategized moves! Get better with time, improve your strategy and puzzle-solving skills, and complete more than seventy levels of challenges!
Get ready for your new favorite platform puzzle! You will be controlling a paintable cube. It can only roll from one face to another to get to the next tile, and you will face the consequences of this tiny problem. No worries; there are always new ways to make it to the finish line! Step on the buttons, paint your faces, and keep rolling! You must interact with painted tiles by touching them only with the same-colored faces. So, plan your route beforehand, go get your colors in the right order, and move toward the goal. Use as few moves as possible to get the highest score with three stars from levels. Discover all uniquely designed levels with eighty challenges and collect two hundred and forty level stars! Enjoy the simple design and the impressive art style of the puzzles while improving your logic skills!
If you like this game, you can check out our other Puzzle Games to find more games like this!
Developer
Xigma Games developed Rubek.
Release Date
August 16, 2022
Features
Nice 3 graphics
Colorful puzzles
Simple controls
Relaxing theme
Improving puzzle-solving skills
Controls
You can use your mouse or the arrow keys to play this game.