Play Now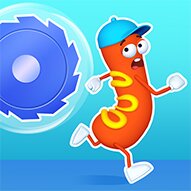 No one understands the difficulties of being a red, running sausage in this cruel age; however, Sausage Run is here to give you a taste! The only way to understand the daily horrors a sausage face is to become one! Teleport into this realm as one, and run for your life!
If you think your daily struggles are hard, you should see how this sausage survives the day! It's not only the deadly obstacles waiting to fry you alive; there is also endless festival music going on in your head! You can't even jump or duck with your slightly chubby body drenched in mustard. Just speed up or slow down to move in harmony with the deadly traps on your way to freedom! Knives and hooks might look painful, but drowning in dishwater is equally deadly for you. You can try your chance with the infinite mode and go for an endless run, or try to finish all 100 levels and declare yourself a sausage ninja who can only run. Complete achievements, unlock new skins with the money you earn from races and discover surprise forms for your character to become something else!
If you like this hilarious obstacle running, you can check out Fail Run Online and take a man with poor movement skills to the finish line!
Developer
2Play developed Sausage Run.
Release Date
May 5, 2022
Features
Colorful 3D graphics
Funny character design
Unlockable content
Surprise skin options
Available on mobile devices
Controls
Click to speed up and release to slow down.