Play Now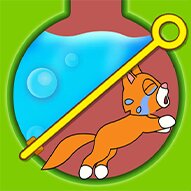 Help your furry friends get out of danger alive with Save the Kitten! Cats are undoubtedly good at putting themselves in silly situations like getting stuck in shopping bags or climbing impossibly high places and realizing what they have done too late. This is a little extraordinary as this time, the danger comes from another cat. Whatever the reason, they need your help once more!
They all have personalities as we do, and this is a fight between the good and the bad cats. Tom the Angry Cat is the villain in this story. He kidnapped all the kittens; he is planning to throw them off his tower! You can grab something soft and try to get them a smooth landing. Tom won't let it be that easy, of course. Move left and right to try and catch all the kittens and leave none behind. Make sure they reach the basket safely and run back to save more. Catch the boosts like magnets and faster shoes Tom drops to help the kittens more efficiently. Save coins and unlock new equipment to keep up with Tom's rage. Look out for the extra coins at the end of every level!
If you like exciting stories, you can check out our Adventure Games category by clicking here.
Developer
AppyApp developed Save the Kitten.
Release Date
May 10, 2022
Features
2D cartoon graphics
Cute characters
Improving reflexes
Available on mobile devices
Controls
You can use your mouse to click on the arrows or use the arrow keys and spacebar to move.