Play Now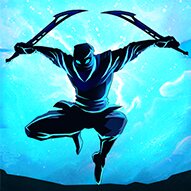 Use shurikens and dash through your enemies in a dark and twisted world with Shadow Ninja Revenge. Move through an endless forest possessed by the soldiers of the Devil. Kill everyone standing in your way and find your kidnapped son. Watch out for nature's traps and cliffs. Cross ancient bridges, loot gold off fallen enemies, and open portals to other worlds!
You are playing as Arashi, who's trying to defeat the ancient Devil to save his son. Of course, you have to find them first. So you try to make your way into the heart of this magical forest. There are evil soldiers on your way, but you can take them down by using shurikens or dashing through them. Beating them is relatively easier than noticing the perfectly hidden traps. What looks like a spear stuck on the edge of a cliff might be a sign of numerous spears waiting to pierce you under your feet. Watch out for anything suspicious and use checkpoints to revive closer to your death spot. Use disguises to hide from your enemies for a short while. You can save gold and upgrade your weapon, dashing damage, maximum health, and hiding time. Enjoy the stunning atmosphere and explore the depths of this forest of a death trap!
If you like ninjas and action games, you can check out Fatty Ninja and help a lazy warrior go far over rooftops!
Developer
Hihoy developed Shadow Ninja Revenge
Release Date
March 10, 2022
Features
Incredible maps and backgrounds
Easy controls
Improvable character
Story-rich
Available on mobile devices
Controls
Use "W, A, S, D" to move and "J" to attack, "K" to dash, and "L" to hide.