Play Now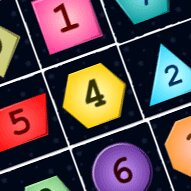 With Shapes Sudoku, this puzzle game never has that much fun before! Even with a little bit of touch, the classic version of Sudoku puzzles gains a whole new taste. You can customize your game according to your age and challenge preferences too. If you are a beginner, you can start with the "very easy" mode and go for the "advanced" mode after. If you are ready now, let's click on the play button and start the game!
If you are a fan of Sudoku games like us, then you are so gonna love this puzzle! Even with a little bit of interface of LofGames, this game is brought to a whole another level. The rules and the challenges stay the same, though. If you are a beginner, let us explain to you your objective and the game rules. The objective of this game is to find the numbers that are missing within the grids. The numbers must be put into a 9 by 9 grid of squares divided into 3 by 3 boxes, with the numbers 1 through 9 in each row, column, and box. The grid numbers, columns, and rows vary according to the game modes. If you choose a difficult mode, you will enjoy a bigger puzzle! None of the numbers should be repeated in any column, row, or house! Have fun and good luck!
If you want to challenge yourself with another version of this fun puzzle game, then be sure to check Amazing Sudoku by clicking here.
Developer
Lof Games developed this game.
Release Date
June 23, 2021
Features
2D colorful graphics
4 game modes
3 grid options
Fun and addictive gameplay
Controls
You can use your mouse or finger to play this game.