Play Now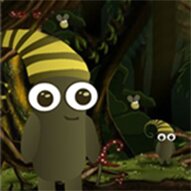 Lead Shapik and his little bee friend through a mysterious and magical forest with Shapik The Quest! Get lost in the relaxing and dreamy woods to look for answers, make friends along the way, and solve mysteries! Explore a foreign land in another realm, face challenging puzzles, and reach the end of an exciting story!
Shapik is a cute green alien with a golden heart and the strongest friendships. One day while they are parting ways, two evil aliens trap and kidnap his best friend. Now he cannot rest until he finds her. Luckily, he has amazing neighbors and is good at winning new friends. Alien folks are good at seeing right into his helpful and selfless nature. So, you can keep that up and start by helping a bee stuck in a spider's web. This little striped fellow will be your companion in this mission. Walk around arenas, look for clues, and solve people's problems to help them and get information. Ride cable cars, survive falls from great heights, and sneak into the villain's base. Trick them to get access to keys and passwords, and reach your friend! Help other kidnapped aliens to join forces and get out of there together!
If you like this fun puzzle with hypnotizing images, you can check out Singing Bird Escape and free a little blue friend by solving mysteries.
Developer
Feig Ltd. developed Shapik The Quest.
Release Date
June 21, 2022
Features
Fun for all ages
Heartwarming storyline
Stunning images and atmosphere
Challenging and addictive puzzles
Available on mobile devices
Controls
You can use your mouse to play this game.