Play Now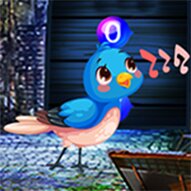 Jump into a mysterious world of puzzles with Singing Bird Escape! Explore the misty streets of a haunted city, find clues in the most unlikely places, and make brainstorms to find your way out of here! Hold on to your seats, and if you are ready to solve the mysteries of this abandoned town, let's get to the action!
You will find yourself trapped in the empty streets in the middle of the night. There is no sound, no one to ask for directions. Here is where your story begins. Look carefully at every object that looks unusual. You might find fruits or carved numbers in random places. Once you get into the logic of the game, they all start making sense. Keep every number you see recorded in the back of your mind and use them in the right order to trigger contraptions. Find parchments that give directions to color puzzles and play mind games to place bubbles in the right places. Reveal color codes, make sense of suspicious images, and find key items to move on to the next section. Solve the most challenging puzzles to unravel the mysteries of this town and retrieve your freedom!
If you like this addictive puzzle, you can check out Mental Hospital Escape and get out of the asylum you are locked in!
Developer
GAMES4KING developed Singing Bird Escape.
Release Date
July 22, 2022
Features
Colorful 2D surroundings
Easy controls
Addictive puzzles
Improving logic skills
Available on mobile devices
Controls
You can use your mouse to play this game.