Play Now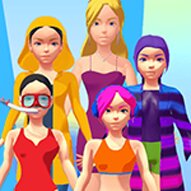 Shoe Race is all about proving Marilyn Monroe right. Here, the right shoes bring you everywhere, and diamonds are indeed your best friend. This is not your basic race, as speed is not the main concern; it is the shoe you are wearing.
Keep your eye on the road as you have to change your shoes to stay compatible with the track. You are running against another racer and wearing the wrong shoes can help them pass you as you slow down. Every terrain has a specific shoe type you should wear: hiking shoes go with rocky heights, sneakers with running track, high heels with red carpet, flip flops with sand. Every successfully finished level gets you more diamonds which you can spend to upgrade your shoes. These upgrades boost your speed in those shoes. As you move forward, you will unlock new terrain types and new shoes to wear on them. Also, signing in daily can get you diamonds and ultimately a new skin too, so make sure to stop by and collect your daily rewards every day. There is another skin available that you can unlock by watching a short ad. New skins and shoes will bring you the change you need in your life!
If you enjoy this game, you can try our other racing games by clicking here.
Developer
YAD.Com developed Shoe Race.
Release Date
November 1, 2021
Features
Colored 3D graphics
Detailed character design
Unlockable skins
Available on mobile devices
Controls
Use your mouse to choose the right shoe type for your character.