Play Now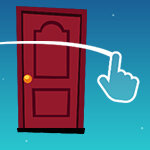 In Slice of Zen, it's time to find comfort in slicing things. Grab your knife, and get ready to cut things through many fun and entertaining levels in this game. Watch out! What you're holding is sharp and you shouldn't cut yourself instead! Have fun!
Cut, slice, and cut again! Who's going to stop you? No one! Your objective in this game is to complete each level by cutting the items in them to reach the target percentage. You can play the game with your mouse, so click on the play button on the main menu to start. This game features 20 different levels. Start from the first level, and complete each level one by one to unlock the rest! When you're in a level, you'll see your target in the bottom left corner of the screen. Click and drag your mouse over the items to draw a line. When you're ready, let go of the left mouse button to cut the items. You have limited moves on each level, and you can check those in the top right corner of the screen. You complete a level when you reach the target without running out of moves. You can see your current percentage at the top of the screen. Good luck!
For more games like this, be sure to check our collection of online puzzle games. Have fun playing!
Developer
MarketJS developed Slice of Zen.
Release Date
October 23, 2018
Features
Colorful 2D graphics
20 different levels to complete
Entertaining and addictive gameplay
Intuitive controls
Controls
You can use your mouse to play this game.