The Smurfs: Ocean Cleanup
Play Now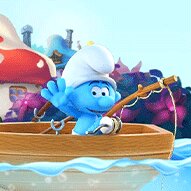 In the Smurfs: Ocean Cleanup, nature needs your help! The evil wizard Gargamel is polluting the ocean, and only you can help the friendly blue folk to stop his foul plans! Take sail and cast a line to clean the waters, and bring back the beauty to the ocean!
These evil wizards are no good, but Gargamel is the worst! Unable to catch the Smurfs, he decided to throw his trash into the ocean! It's time to join the Smurfs, and get ready to foil Gargamel's plans! Your objective in this game is to fish out trash from the water and clear each level. So grab your fishing rod, and get ready to do some cleaning! Click on the screen when the indicator is on the green zone, and move the hook towards the trash to collect them. You sell the collected trash for coins and can use these to upgrade your fishing rod. With one upgrade you can increase the number of trash you can collect. With the other one, you can increase the depth you can travel to. Epic and legendary trash sell for more coins, so try your best to catch many of them. Keep an eye out for mines, as these will make you fail. Enjoy!
If you enjoy this game, be sure to check our other popular title, Gone Fishing! Have fun playing!
Developer
Azerion developed Smurfs: Ocean Cleanup.
Release Date
October 19, 2021
Features
Colorful 2D graphics
2 different stats to improve
Various levels to complete
Intuitive controls
Entertaining gameplay
Controls
You can use your mouse on the desktop, and your finger on the mobile devices to play the game.