Play Now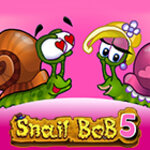 In Snail Bob 5: Love Story, our adventurous main character has gotten lovestruck! He skipped lunch but he can't help but feel the butterflies in his stomach whenever he sees the picture of the famous singer of the snail land. In this fifth adventure of this popular series, can you help Bob reach his love interest through amazing levels?
True love hurts, but Bob believes with your help, he'll unite with the love of his life no matter what! Your objective in this game is similar to the other titles in the series. You take control of Bob and help him travel through levels filled with various dangers such as traps, enemies, and obstacles. Bob believes if he can conquer the jungle, he can also conquer the heart of his love. From carnivorous plants to hungry animals, get ready for an adventure. You can play this game with your mouse, so click on the different items and objects on the screen to solve the puzzles to ensure a safe passage for Bob. Pull the levers, push the buttons, and try to avoid enemies and getting stuck. Keep your eyes peeled as the jungle hides valuables. Try to find 3 hidden stars on each level to unlock mini-games.
For more challenging games like these, be sure to check our category page of our other free and online puzzle games.
Developer
Hamster Hunter Studios developed this game.
Release Date
March 2018
Features
25 different levels to complete
Colorful 2D graphics
4 different mini-games that you can unlock
Entertaining gameplay
Controls
Use the left mouse button to interact with tools. Press the space bar to stop Snail Bob and make him hide in his shell. Press 1 to turn around. Press 2 to speed up.