Play Now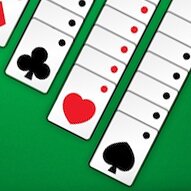 In Solitaire Collection, get ready to play 3 popular solitaire games. Featuring nice 2D graphics and fun gameplay, this game will lock you in front of the screen for hours of fun. Are you ready to test your solitaire skills in this fun card game?
Playing card games with friends is loads of fun, but playing them on your own can be quite fun too. That's why we brought three popular solitaire games to your browsers. This way you can play them whenever and wherever you want. There are 3 games in this collection, klondike, spider, and freecell. Each of these games comes with its own rules that you need to know. In klondike, you need to build all 4 of the foundations from ace to king with cards of the same suit. You can choose turn 1 or 3. This means you can either choose one card to be dealt or three cards. In spider solitaire, you need to build cards of descending order, from king to ace. You can choose from 1-suit, two-suits or 4-suits. In freecell, build the 4 homecells in ascending order, from ace to king, with cards in the same suit. If you are feeling stuck, you can click on the hint button at the bottom of the screen. Have fun playing!
If you enjoy playing card games on your own, Microsoft Solitaire Collection is just the right game for you. Check it out now!
Developer
Holger Sindbaek developed Solitaire Collection.
Release Date
April 12, 2021
Features
3 different solitaire games
Fun and addictive gameplay
Intuitive controls
Nice 2D graphics
Controls
You can use your mouse to play this game.