Play Now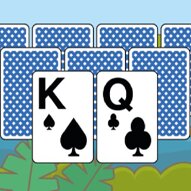 Match the cards in the right order, make combos to get help from Joker Cards, and complete levels with three stars to make the maximum score with Solitaire Seasons! Enjoy the relaxing puzzle-like digital version of the all-time classic card game Solitaire! Adapt to the changing seasons and complete ten levels in each!
While the original Solitaire games require you to sort cards by suit or color, this immersive digital version brings a new challenge to the table. The cards are placed on the table in a Mahjong-like order, and you must match the cards on the top to reveal the cards at the bottom. The problem is that you can easily run out of cards while trying to match a card on the table with your deck. This is where the combos and rewards come to save you. By making 7-move combos without dealing new cards, you can unlock a Joker Card. These Joker Cards can be used instead of any card and save you when you are cornered. You can also get them by watching a short ad. The bar to your right shows your score and decreases with each passing second. You can check it to see how many stars you got. Good luck!
If you like digital Solitaire Games, you can check out Spider Solitaire Blue for a classical challenge!
Developer
bestphysics developed Solitaire Seasons.
Release Date
June 1, 2022
Features
Improving logic skills
Unlockable boosters
40 levels in four different themes
Addictive gameplay
Available on mobile devices
Controls
Use your mouse to play.