Play Now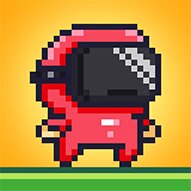 Run freely in a pixel world, face danger, and collect gold with Speedrun Platformer! Jump between platforms, discover new lands, and pass challenging levels by surviving till the end! Break score records and compare yourself with other players on a global scoreboard! Let's choose a nickname for you and dive into this retro world further!
Explore a fantastic world of pixels with your favorite internet and game characters, unlock skins, and defeat monsters by jumping on them! Relive the spirit of the arcade games and lose yourself in an immersive adventure! Start following your character and let's collect some coins! Enter your name and start your first level. You can move with the arrow keys. Press "up" once to jump and twice to double jump. You can time your double jump however you want to reach heights and monsters. Do not touch monsters other than attacking them. You have three lives displayed above, and every time you get hit you lose one life. You must restart the level upon death. Pick up gems and collect them to buy new characters. Also, you can save your coins to buy new effects for your character! Pass levels in the minimum time to make your way up on the scoreboard!
If you like this arcade adventure with adorable characters, you can check out our Adventure Games and find more games like this!
Developer
Stickman vs Monster School Team developed Speedrun Platformer.
Release Date
August 4, 2022
Features
Colorful 2D graphics
Arcade-themed world
Cute and famous characters
Unlockable upgrades
Available on mobile
Controls
You can use "W, A, S, D" or the arrow keys to play.