Play Now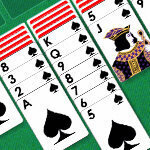 In Spider Solitaire, get ready to shuffle the deck and sort the cards in order. While you might not be able to build a house of cards with the cards in this game, you can still sit back and enjoy the relaxing gameplay.
You don't have to worry if you don't have a card deck in your house. You can play this game without needing one, on your browser. In this game, your goal is to remove all the cards from the table by creating runs. Each of these runs should be in the descending order, from King to Ace. You can play the game with your mouse. The game has 3 different difficulty levels. On the easy setting, you only have one suit of cards. The medium setting has 2 and lastly, the hard setting has 4 suits. Pick one of the difficulty levels, and start playing. Click and drag on the cards to place them under other suitable cards. When you complete a run, the cards will be removed to the slots at the top of the screen. When you run out of moves, click on the deck in the top left corner to deal new cards. You complete the game when you clear the cards from the table. Have fun!
Want to try other challenging games? Then be sure to visit our collection page of online puzzle games. Enjoy!
Developer
Arkadium developed Spider Solitaire.
Release Date
December 4, 2019
Features
Colorful 2D graphics
3 different difficulty settings
Intuitive controls
Entertaining gameplay
Controls
You can use your mouse to play this game.