Play Now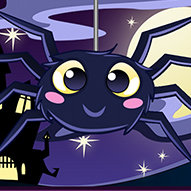 In Spider Solitaire 2, a new version of Spider Solitaire adventure with a creepy witch theme is ready to test your strategical thinking skills! In this fun puzzle game, you will be able to test your card layout knowledge. If you have ever heard of spider solitaire or are willing to learn how it is played, this game will totally satisfy you with its catchy gothic theme. Ready to start? Then, let the game begin!
If you are a beginner in Spider Solitaire games, let us inform you briefly about how this game works. First of all, this fun game is a two suits spider solitaire variation, which means the difficulty level is medium. The cards consist of two suits, Spades and Hearts. This makes Spider a good challenge and, you'll be rewarded with more points if you can make it. The objective of the game is building cards of descending suit sequence from King to Ace and get the highest score possible. You can move any open card from the end of a column to another column if it makes a descending sequence. You may also move a packed descending sequence of cards, but only if they're of the same suit. If you are out of moves, click on the stock to deal another card to each of the columns on the deck. You have 15 minutes to clear out the deck, or the game is over. Good luck and enjoy!
Be sure to check our collection of online/free puzzle games to browse other solitaire game versions and more.
Developer
Zigiz developed this game.
Release Date
April 21, 2020
Features
Spider version of Solitaire
3D colorful graphics
Halloween theme
Time limit of 15 mins
Controls
You can play this game with your mouse.