Spring Differences Online
Play Now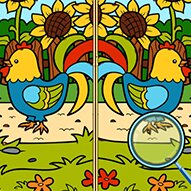 Open your senses and improve your puzzle-solving skills with the relaxing images of Spring Differences! Inspect uniquely designed images, find differences in the given time, and finish quickly to get extra points! There are tens of levels of nature and animal drawing puzzles ahead of you!
The game is really simple: there are two similar images with small differences in front of you. The goal is to mark the different spots before the time runs out. Every successful mark and extra second turns back to you as score points, while misclicks cost you points. You can see the images in the middle of the screen. Between them is a number that shows how many spots are left unrevealed. You must take that number to zero to pass the level. Below the images, there is a countdown in which you must complete the level. The level you are on and your score points can be seen toward the left of the clock. Use the menu symbols on the bottom right to pause the level, turn the sound on and off, ask for tips, play and pause the music, and exit to the main menu. Good luck with this adorable attention test!
If you like solving all types of puzzles, you can check out our Puzzle Games category by clicking here.
Developer
Lof Games developed Spring Differences.
Release Date
April 12, 2022
Features
Fun for all ages
Cute colorful images
Easy to play
30 levels
Available on mobile devices
Controls
You can use your mouse to play this game.