Play Now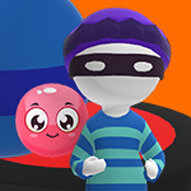 Stack Rider welcomes you to its colorful stack balls world! Here, you have only one goal to achieve, and that is to keep moving. To move, what you need is to collect these colorful balls that we call stacks. It is not that easy, though. You will face lots of obstacles trying to take your stacks away. Be careful and guard your courage. It is a long way to complete the game but you can do this!
Are you ready to add some adrenaline to your life? We have an energizing running adventure waiting for you here. We are sure you are familiar with the games where you collect stacks and trying to reach the finish line. If you are not, we can explain to you some of the key points about the game. Your objective is to reach the finish line by collecting as many balls as possible. You will face various obstacles on the way. Once you interact with any of the obstacles, you lose some of your stacks. When you reach the finish line, you will test your timing by stopping the wheel. If it stops on the oranges, you will earn more points. The other colors may steal some of your balls and prevent you from increasing your points. Good luck and have fun playing!
If you want to even more action to your life, be sure to check our collection of online and free running games to browse more fun titles like this game.
Developer
bestgames.com developed Stack Rider.
Release Date
April 16, 2021
Features
3D colorful graphics
Collecting coins and stacks
Skill testing running game
Fun and engaging gameplay
Controls
You can use your mouse or finger to play this game.